We need to confront how the movement is shaped by the power of whiteness, write Alison Phipps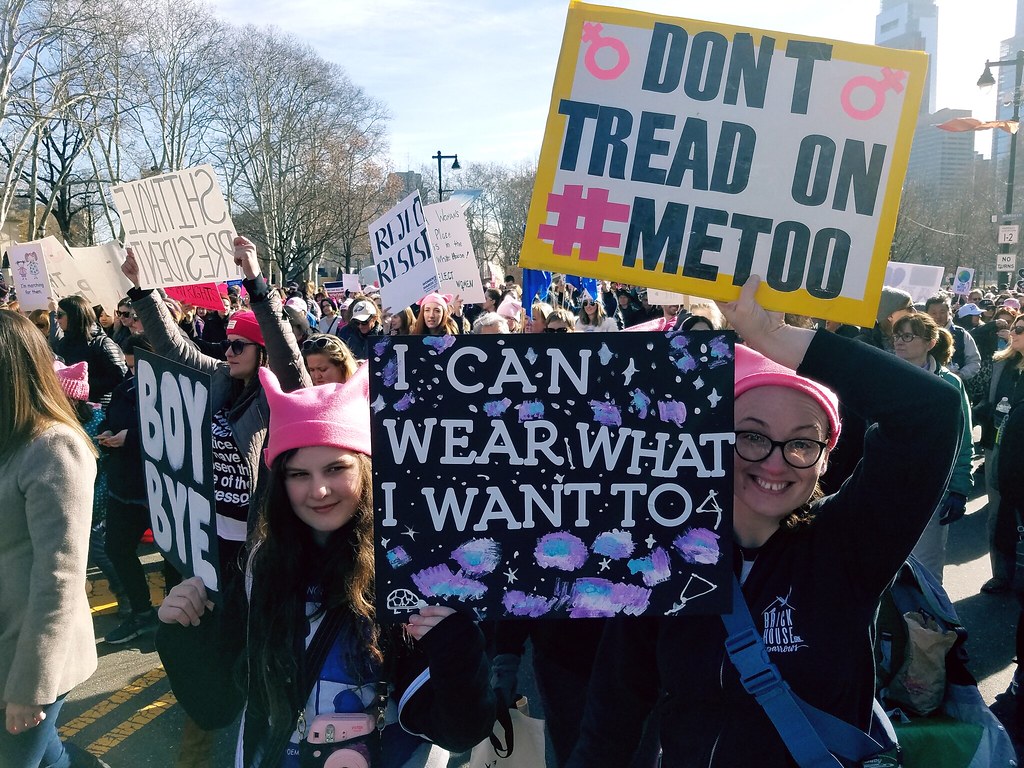 Photo by Rob Kall / Flickr
On January 24th 2018, gymnastics coach Larry Nassar was sentenced to 40 to 175 years in a Michigan state prison for seven counts of sexual assault of minors. This was one of three sentences given to Nassar, accused of molesting at least 250 girls and young women and one young man, between 1992 and 2016. Sentencing Judge Rosemarie Aquilina told him that, if authorised, she would 'allow some or many people to do to him what he did to others'. 'I just signed your death warrant', she said. Aquilina was subsequently described as a 'a bona-fide feminist icon', '#MeToo hero of the week', and a paragon of 'transformative justice.'
This story exemplifies what I call 'political whiteness.' I am going to state the obvious: the domination of mainstream feminism by bourgeois white women shapes what Clare Hemmings might call its political grammar. In other words, the form in which its stories are told, and the assumptions and meanings these draw on and create. For instance, that rape is perpetrated by 'bad men' who should be exposed. That police exist to catch these men, and courts to do justice on them. That they ought to be punished as severely as possible. Beneath these lie deeply held beliefs: people are either victims or perpetrators, but not both; the state is protective rather than oppressive; shaming and punishment work.
Political whiteness is similar to the term 'white feminism', which describes feminist perspectives (often willfully) ignorant of the struggles, cultural output and politics of women of colour. But political whiteness is broader and deeper than that. It is produced by the combination of supremacy and victimhood, which creates a focus on the injured self, an obsession with threat, and an accompanying will to power. It characterises both white feminism and the backlash (or whitelash) against it. It might seem insensitive to associate feminism with the misogynist backlash. But acknowledging the central role of race demands that we do.
'I'm everything': The white self
On International Women's Day 2019, #MeToo co-leader Alyssa Milano tweeted: 'My transgender sisters! I am celebrating YOU this #NationalWomensDay!' Soon after, a male user asked: 'Alyssa are you transgender?' Her response is worth repeating in full.
'I'm trans. I'm a person of color. I'm an immigrant. I'm a lesbian. I'm a gay man. I'm the disabled.

I'm everything. And so are you, Kirk.

Don't be afraid of what you don't know or understand. No one wants to hurt you. We are all just looking for our happily ever after.'
Milano quickly followed this tweet with another quoting 13th Century Persian poet and Islamic scholar Rumi: 'This is a subtle truth. Whatever you love, you are.'
This event can tell us much about white feminism. It is nominally inclusive, but inclusion depends on white women being centred as those who grant it. We speak for other groups, rather than letting them speak for themselves. We see ourselves as experts and saviours. We speak of mutual love and happiness with no acknowledgement of our role in the violence of capitalism and white supremacy. We appropriate the ideas and politics of non-white people to justify these power games. I have certainly done all these things. If you are a white woman reading this, you have probably done them too.
Critical studies of whiteness have highlighted the central role of narcissism in white identity. White people see ourselves in everything around us: political and corporate leaders look like us; celebrities and other public figures do too. Most of us live and work in predominantly white neighbourhoods and communities – we hardly, if ever, enter a space in which we don't belong. As Sara Ahmed says, whiteness is a mode of being 'at home' in the world. We don't get stopped at the border. We don't worry about being brutalised by the police. We are not seen and treated as Other, day in and day out. We don't get called angry and unreasonable when we mention our race.
White people are used to being seen as 'everything'. Our views are objective, and our experiences can represent those of everyone else. We expect to be centred, even in anti-racist movements. As Robin DiAngelo writes in her famous article 'White Fragility', we stand for humanity. This means that mainstream feminism can make claims about 'women's victimhood' based on the experiences of bourgeois white women. And it always has done: in 1982, black feminist Hazel Carby highlighted how dominant feminist narratives (for instance, about the family and the police) excluded black women and other women of colour.
White feminist narcissism has its mirror in that of the backlash. What about the (white) men? The experience of whiteness as comfort lowers our capacity to tolerate its opposite, especially in the form of being held accountable. Accountability exposes the deep fragility of whiteness. This is demonstrated by the use of the phrase 'witch-hunt' about movements like #MeToo. Sometimes they are called 'lynch mobs', which is even worse. This rhetoric equates attempts to hold powerful people to account with the systematic and violent persecution of marginalised groups.
Counter-attack is then inevitable. In #MeToo, this took a number of forms: the hashtag #HimToo which identified accused men as victims and advised all men to be scared; men on Wall Street who decided to avoid women at all costs for protection; chest-beating about false allegations; victim-blaming; and the rest. White women were part of this backlash as well: celebrities, libertarian feminists and conservative female commentators all took part in the frenzy of concern trolling and disbelief. Catherine Deneuve bemoaned the 'media lynching' of men accused of sexual harassment. Melanie Phillips opined that it was 'time vilified men had their #MeToo.'
White selves as wounded selves
The narcissistic centring of the self is bound to produce wounds. The backlash against #MeToo was obsessed with the 'wounds' of accused men and critics of the movement. Katie Roiphe, who had been a key figure in the 1990s backlash against sexual violence activism on US campuses, penned an article in Harper's Magazinecalled 'The Other Whisper Network'. In it, she claimed #MeToo's detractors were so afraid of recriminations they could not speak. 'Can you see why some of us are whispering?' she asked. 'It is the sense of viciousness lying in wait, of violent hate just waiting to be unfurled.'
These 'wounds' predominate despite the fact that the backlash criticises women – and feminists – for engaging in 'victim politics'. This is a petulant howl about whose wounds are worse, who are the real victims, who is being victimised by all this talk of victimhood. This right-wing victim/anti-victim rhetoric often emerges in response to feminist campaigns against sexual violence. It is also fortified at a time when the 'wounds' of the right have come to dominate Anglo-American public discourse, exemplified by Brexit and the election of Trump.
Whiteness is predisposed to woundedness. From a position of power, one naturally becomes preoccupied with threat. The figures of the settler and the master are emblems of conquest and subjugation, but there is always a risk these figures will be displaced or violently overthrown. Whether from indigenous populations, enslaved people, immigrants, 'political correctness' or 'social justice warriors', the idea of whiteness under threat has significant cultural influence. And 'victim politics' is victimisation because it means consequences for dominant groups accustomed to acting with impunity.
On International Men's Day 2019, Piers Morgan ushered in the celebrations with a monologue comparing bourgeois white men to endangered rhinos. 'Yes, we do need a day', he said. 'We are now the most downtrodden group of men in the world.' White feminists have generally (and rightly) given such statements short shrift. In 2014, following a series of online attacks from men's rights activists, feminist writer Jessica Valenti tweeted a picture of herself in a T-shirt that read: I BATHE IN MALE TEARS.
But what about female tears? White woundedness and fragility also exist in feminist politics, often becoming most obvious in conversations about race. Mamta Motwani Accapadi is one of many feminists of colour who have described how white feminists use tears to deflect and avoid accountability in difficult discussions. These tears hide the harms we perpetrate through our involvement in white supremacy. And the power of white women's tears still reflects white supremacy even when those tears are shed over genuine experiences of trauma.
Water was a powerful metaphor in #MeToo. The movement was described as a 'flood' of stories of sexual assault by CNN, CBS and CBC, and a 'tsunami' on CNBC, in the Times of India, the New York Times and the US National Post. These metaphors for natural disaster evoked trauma on a massive scale. They constructed sexual violence as a 'force of nature', which (unfortunately) tapped long-established patriarchal myths. They also represented the movement as a collective weeping, a release of (white) tears.
Tears epitomise white femininity. They evoke the damsel in distress and the mourning, lamenting women of myth. Niobe wept unceasingly after her children were killed by Artemis and Apollo; even after being turned to stone, tears poured from her petrified face. Penelope waited for her husband Odysseus for two decades in her 'bed of sorrows', which she watered with tears until she fell asleep. In an article on #MeToo, Jamilah Lemieux commented: 'white women know how to be victims. They know just how to bleed and weep in the public square, they fundamentally understand that they are entitled to sympathy.'
The cultural power of mainstream feminism is linked to the cultural power of white tears. The woundedness attached to whiteness can cross boundaries between reactionary and progressive politics. It encompasses the lost entitlements of the backlash and the resentment driving Brexit and Trump supporters, and the deeply felt trauma of sexual violence. These injuries (or perceived injuries, on the right) are not at all equivalent. But mainstream feminist activism against sexual violence is shaped by the woundedness of white bourgeois femininity.
This wounded white femininity was heightened and entrenched by colonialism. It reflects the dichotomies that legitimated conquest, violent dispossession and exploitation: dichotomies between the 'respectable' white bourgeois family and the 'degeneracy' of black and brown indigenous communities. Between the 'pure', 'fragile', 'innocent' white woman and the 'uncontrolled' sexuality of people of colour. Protecting white women was, and is, a key colonial preoccupation. Fear of revolution is also fear of rape.
This 'risk' posed to white women from the oversexualised Other has been the justification for community and state violence, both historically and now. It justified the genocidal subjugation of indigenous communities. It justified the lynching of enslaved and free black men and boys – perhaps most unforgettably, fourteen-year-old Emmett Till. In a 2008 interview, Till's accuser Carolyn Bryant admitted he had not made sexual advances towards her. Bryant's 'white lie' cost a black boy his life.
'If the #MeToo revolution has proved anything,' wrote Barbara Kingsolver in the Guardian in 2018, 'it's that women live under threat. Not sometimes, but all the time.' This imperilled femininity is white. It depends on tropes of racist domination, even while it articulates the gendered harm of sexual violence. It is the white woman weeping in the public square. It is Niobe and Penelope. It is Carolyn Bryant. And white women's tears can be deadly to people of colour.
'Taking back control'
The structural power of whiteness creates a sense of victimhood when entitlements and powers are threatened, as seen in backlash and ethno-nationalist forms of white politics. This produces the desire to 'take back control' – a slogan which has been at the forefront of the far-right in many countries. Brexit campaigners used it repeatedly and relentlessly. (Some) Americans elected Trump to 'Make America Great Again' (a slogan echoed in Spain – and about Spain –by far-right party Vox).
The backlash against feminism often claims that it has 'gone too far', a clarion call for men to regain their rightful place in the gender order. In more mainstream circles this is expressed as a concern that men are now the downtrodden sex. At the extremes, Men's Rights Activists and incels attempt to 'take back control' of women – and sex – via violent acts. MRAs online combine rape and death threats with instructions to 'make [them] a sandwich.' In the incel mindset, mass murder is an appropriate response to not being able to get a date.
White feminists are well acquainted with the white man's will to power. We bathe in male tears. However, the white will to power also exists as whiteness intersects with gender inequalities and individual experiences of victimisation. White women – even survivors of sexual violence – possess and express it too. It is possible that sexual violence might intensify it: since sexual assault and rape involve a loss of power and control, regaining this is crucial to successful recovery.
Survivors of sexual violence are advised to 'take back control' in a variety of ways, from making decisions about reporting and accessing support, to when and whether to engage in consensual sex afterwards, to going back to work or college. We are sometimes encouraged to make small changes for a sense of restored control, for instance cutting our hair. This is all sensible and necessary. But regaining control, for white women, can also be accomplished through 'taking down' powerful men via the 'outrage economy' of the media and the carceral state.
Harvey Weinstein. Larry Nassar. Kevin Spacey. Junot Diaz. Richard Dreyfuss. Gerard Depardieu. James Franco. David Copperfield. Sylvester Stallone. The 'shitty media men.' This is part of the 'kill list' of #MeToo, and its founder Tarana Burke has consistently critiqued its focus on 'bad men' like these. 'No matter how much I keep talking about power and privilege,' she has said, 'they keep bringing it back to individuals.' Burke's caution about 'bringing down' these men is not about shielding them from accountability. Instead, it is rooted in the knowledge that strengthening punitive systems will not generally affect men like these.
When American college student Brock Turner was convicted in 2016 of sexually assaulting an unconscious woman, some feminists protested the lightness of his six-month sentence. One response was a bill in the California State Assembly, to impose a mandatory minimum sentence of three years for sexual assault of an unconscious victim. But 'here's the thing with mandatory minimums', wrote Meg Sri inFeministing, 'they were designed to prop up the exact same system that cut Turner loose, and put a vast swath of people of color in droves behind bars.'
Then Vice-President Joe Biden was fêted by feminists after an open letter to Turner's victim sharing his 'furious anger' at what she had been through. Biden's necropolitical rage has made him a white feminist hero before. He was the lead Senate sponsor of the 1994 Crime Bill, which mandated more funding for police and prisons, more 'three-strikes' laws, an expansion of the death penalty, and less money to help incarcerated people access education. Feminists supported the bill, because it also contained the Violence Against Women Act.
In 2019, Alyssa Milano defended Biden against sexual misconduct allegations on the grounds of his 'kind, empathetic leadership'. Biden is actually a hero of what Elizabeth Bernstein calls 'carceral feminism', which is undeniably white. And as Kelly Hayes and Mariame Kaba wrote about Aquilina's sentencing of Nassar, carceral feminism is not transformative justice. Criminal punishment is state violence. Even when handed down to a privileged white person, it is 'a structurally anti-Black apparatus, firmly rooted in the United States' ongoing reliance on the financial exploitation and social control of Black people.'
For white feminists, criminal punishment represents protection, not oppression. It is the master's intervention, the 'empathy' of Angry Dad. It is also the indirect demonstration of our own will to power. We 'take back control' via the punitive technologies of the state. And as the far-right encroaches upon governments across the world, as fascists weaponise 'women's safety' against marginalised groups such as migrants, sex workers and trans people, mainstream feminism stays focused on state remedy for personal harm. The dominant conversation about sexual violence remains one between white women and white men, about who is more wounded and who is in control. We need a different conversation.
I am not saying that white women do not suffer sexual violence. I have experienced it myself. We are entitled to be angry; we are entitled to cry. But we are not entitled to politicise our pain with no concern for what it might do. We must be alive to white narcissism, white woundedness and the white will to power. We must acknowledge that these dynamics are not restricted to the backlash. It is urgent for white feminists, taking their lead from feminists of colour, to work against political whiteness in ourselves and in the mainstream of the movement.
Alison Phipps is Professor of Gender Studies at the University of Sussex. This is an early, edited extract from her forthcoming book Me, Not You: the Trouble with Mainstream Feminism.